In a harmonious blend of Scotch tradition and Japanese influence, The Glenmorangie Company has unveiled its latest limited-edition single malt whisky, aptly named "A Tale of Tokyo." This exclusive release pays homage to the vibrant and captivating Japanese capital, Tokyo, and offers a sensory journey inspired by the city's rich tapestry of contrasts and complexities.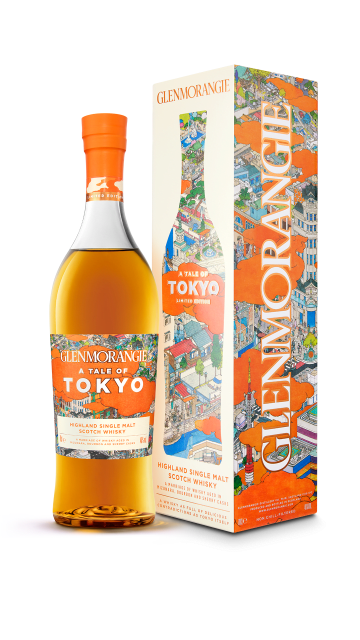 The mastermind behind this exceptional creation is none other than Dr. Bill Lumsden, Glenmorangie's esteemed director of whisky creation. Dr. Lumsden, driven by his profound fascination with Japan and Tokyo, embarked on a quest to encapsulate the city's essence within a whisky. His extensive travels through Japan, where he marveled at the juxtapositions between bustling streets and tranquil gardens, ancient and modern architecture, and myriad sensory experiences, provided the impetus for this innovative endeavor.
To craft a whisky that would faithfully capture Tokyo's essence, Dr. Lumsden turned to the enigmatic Mizunara oak casks from Japan. These casks, renowned among whisky aficionados, are notorious for their rarity and the unique challenges they pose to whisky makers. "I've always wanted to get my hands on Japanese Mizunara oak," Dr. Lumsden confessed, reflecting on his seven- to eight-year quest to secure these elusive casks. The wood from Mizunara oak trees, which takes around 200 years to mature, differs significantly from the American white oak commonly used in Glenmorangie's cask repertoire. Mizunara oak imparts resinous and sharp characteristics, creating a truly distinctive flavor profile.
The resulting expression, A Tale of Tokyo, is a testament to the enchanting opposites that define both Tokyo and this remarkable whisky. The flavor journey within the bottle is described as a symphony of flavors where pepper harmonizes with bitter cherries and coconut, while vibrant orange zest intertwines with incense and the sweetness of oak. On the finish, familiar Glenmorangie notes of mandarin, almond, and marzipan complete this extraordinary sensory experience.
To commemorate this special release, Glenmorangie enlisted the talents of Japanese artist Akira Yamaguchi to design unique artwork for each bottle's packaging. Yamaguchi's artistic representation of Tokyo's multi-faceted nature combines iconic landmarks like Tokyo Tower and Ueno Park with elements from Glenmorangie's Highland Distillery, including its whisky stills. The result is a visually stunning homage to Tokyo's rich history and culture.
A Tale of Tokyo, bottled at 46% ABV, will be exclusively available at Selfridges from October 1st to 15th, allowing whisky enthusiasts and collectors a first taste of this exceptional creation. Afterward, it will be accessible through selected whisky specialists. The recommended retail price for this limited edition is £76 (approximately US$92.64).
A Tale of Tokyo is the latest addition to Glenmorangie's "Tale of" series, which debuted with A Tale of Cake in 2020. Dr. Lumsden, recognizing the popularity and excitement surrounding these unique concepts, confirmed that this series will continue with at least two or three more intriguing releases in the pipeline. With each edition, Glenmorangie invites whisky connoisseurs to embark on a sensory journey inspired by the world's diverse and captivating destinations.
About The Glenmorangie Company
The Glenmorangie Company is a prestigious and renowned Scottish whisky distillery that is highly regarded for its commitment to craftsmanship, innovation, and the production of exceptional single malt Scotch whisky. Established in 1843, the distillery is located in Tain, in the northern Highlands of Scotland, where it benefits from the region's pure water sources and natural beauty.
Glenmorangie is celebrated for its dedication to quality and precision in every aspect of whisky production. The distillery uses copper pot stills, which are among the tallest in Scotland, allowing for a more delicate and refined distillation process. They also emphasize the importance of oak casks in aging their whisky, using a combination of ex-bourbon and sherry casks to impart unique flavors and character to their spirits.
One of Glenmorangie's signature characteristics is its commitment to experimentation and innovation. The distillery has released a range of expressions that showcase different aging techniques, wood types, and cask finishes. Notably, they have pioneered the art of extra-maturation, where whisky is transferred to different cask types for finishing, resulting in distinctive flavor profiles that have garnered attention from whisky enthusiasts.
Glenmorangie's core range includes a variety of expressions, such as Glenmorangie Original, Glenmorangie 18 Year Old, and Glenmorangie Lasanta, each known for its unique tasting notes and approachability. The Original, for example, is celebrated for its delicate and fruity character, while the 18 Year Old showcases a rich and complex profile.
The Glenmorangie Company is also known for its commitment to sustainability and environmental responsibility. They have implemented eco-friendly initiatives in their production process and have undertaken conservation efforts to protect the surrounding environment.
In addition to its flagship Glenmorangie brand, the company owns and operates the Ardbeg Distillery, another iconic Islay distillery known for its heavily peated and smoky single malt Scotch whisky.
Overall, The Glenmorangie Company stands as a symbol of excellence in the world of Scotch whisky, celebrated for its craftsmanship, innovation, and commitment to producing some of the finest single malt Scotch whiskies available.