Tomatin 8 Year Old Bourbon & Sherry Casks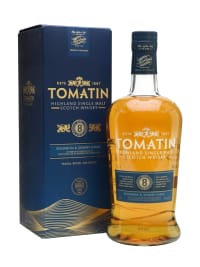 Whisky Information
Average Price: £45.75 / 700ml
This eight-year-old whiskey from Tomatin, which was first made for travel retail, was matured in a mix of bourbon and sherry barrels, giving it flavors of apples, pears, ginger, and cinnamon.
Available Listings In The UK
---
About Tomatin
In the hamlet of Tomatin, there is a single malt Scotch whisky distillery. Given that it is located 25 minutes south of Inverness, its whiskey is considered to be from the Highland area. The distillery wasn't built until 1897, going by the name Tomatin Spey Distillery Co Ltd, even though it is believed that whiskey has been produced on the site since the 16th century when cattle drivers would purchase it from a nearby still. The business filed for bankruptcy in 1906 and reopened in 1909 under new management. It was acquired by the Japanese company Takara Shuzo in 1986 after the liquidation of its owners, and the name was changed to Tomatin Distillery Co Ltd. Up until 1958, the distillery ran on just two stills. They started adding stills to improve production capacity at that point, and by the 1970s, they were producing 12.5 million gallons of whiskey annually. Tomatin was formerly thought to be the biggest malt distillery in Scotland,[3] but as of 2007, they were only producing 2.5 million liters of alcohol, and since the mid-1980s, stills have been removed, reducing its total capacity to just over 5 million liters. Eighty percent of Tomatin's whiskey, including its own labels Antiquary and Talisman, is used to make blended whiskies. The distillery is currently increasing its core range and working to strengthen its reputation as a single malt producer. The 12-year-old was introduced in 2003 to replace Tomatin's standard 10-year-old malt. There are also often created single-cask, 32-year, and 40-year restricted releases. Cù Bcan, a single malt that is just minimally peated and produced at the distillery for one week a year, has just recently started to be made.
Related Video