Deanston 15 Year Old Marsala Cask Finish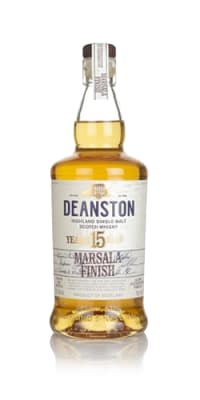 Whisky Information
Average Price: £95.63 / 700ml
Deanston 15 Year Old Marsala Cask Finish is a limited edition single malt whisky from the Deanston distillery in the Scottish Highlands. This expression was initially aged in bourbon barrels before being finished in casks that previously held Marsala wine from Sicily. It was bottled at 50% ABV without chill-filtration and with natural color. The Marsala cask finish adds fruity and spicy notes to the classic Deanston profile, with flavors of dried fruits, raisins, honey, vanilla, cinnamon, and nutmeg. Only a limited number of bottles were produced.
Available Listings In The UK
---
About Deanston
Eight miles from the ancient town of Stirling and at the entrance to the breathtaking Loch Lomond & Trossachs National Park sits the Deanston Distillery, a single malt Scotch whiskey distillery. Distell Group Limited, a maker of Scotch whiskey, also owns Tobermory Distillery on the Isle of Mull and Bunnahabhain Distillery on the Isle of Islay. It is their largest distillery. Sir Richard Arkwright created the cotton factory that would become Deanston Distillery in 1785. It operated as a cotton mill for 180 years before being converted to a distillery in 1966. The choice to convert the mill into a distillery was influenced by the reliable availability of clean water from the River Teith. Deanston is currently the only distillery in Scotland that is completely self-sufficient in electricity, with power produced by an on-site hydro-energy system. Scotland's Highland single malt region includes Deanston, which produces whiskey that is created by 10 local artisans, unchill filtered, naturally colored, and bottled at a 46.3% ABV strength.
Related Video