Chivas Regal Extra 13 Year Old Bourbon Cask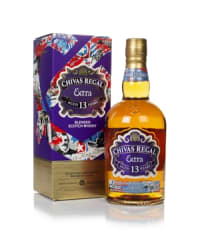 Whisky Information
Average Price: £34.01 / 700ml
Chivas Regal Extra 13 Year Old Bourbon Cask is a blended Scotch whisky made by Chivas Brothers, a subsidiary of Pernod Ricard. The whisky is aged for at least 13 years and finished in bourbon casks, which impart a rich and creamy flavor profile. The bourbon cask finish contributes notes of vanilla, honey, and fruit to the smooth and complex blend of malt and grain whiskies in Chivas Regal Extra. The result is a smooth, well-balanced and flavorful whisky that is enjoyed by whisky aficionados and casual drinkers alike.
Available Listings In The UK
---
About Chivas Regal
Chivas Brothers, a subsidiary of Pernod Ricard, creates the blended Scotch whisky known as Chivas Regal. The Strathisla distillery in Keith, Moray, Speyside, Scotland, where it had its headquarters since its founding in 1786, is the oldest continually running Highland distillery. In Europe and Asia Pacific, Chivas Regal has held the top position on the market for Scotch whisky that is 12 years old or older. Sales increased by 61% from 2002 to 2008. In the world market, Chivas Regal sold 4.9 million nine-liter cases in volume in 2012 and 2013, but 4.4 million cases in 2015. Since 2016, it is ranked as the fourth most popular Scotch whiskey in the world. On a picture-perfect farm in the isolated Scottish Highlands, the Chivas odyssey got underway. Our company's founders, John and James Chivas, were two of 11 children when they were born, and they had goals as enormous as their family. In Scotland in the nineteenth century, brothers were typically expected to enter the family agricultural business due to strong family traditions. The boys were proud of their heritage but also understood they desired more. They had ambition. To start something greater, they made a daring journey over three difficult days on foot to the city of Aberdeen. James arrived in the city and started working at a neighborhood grocery store. His tenacious family's work ethic helped him quickly pick up the profession and the business. He quickly established himself as a pillar of the community's service. The two eventually joined forces and grabbed control of the Emporium. The Chivas Brothers business was established.
Related Video