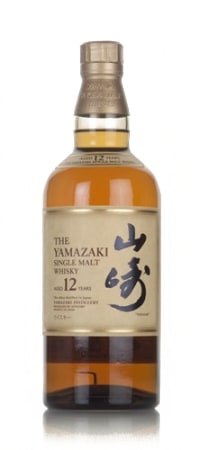 Yamazaki 12 Year Old
Yamazaki 12 Year Old is a single malt Japanese whisky produced by Suntory, a Japanese spirits company. It is made from 100% malted barley that has been aged in oak barrels for a minimum of 12 years. ... Read more
Compare prices from
£108.32
to
£158.6
Listings
Statistics
Reviews
Information
Statistics
The below chart tracks the cheapest price (excluding shipping) over time for Yamazaki 12 Year Old. Each figure represents the average price per month for that online retailer
| Store | 12-01-2022 | 01-01-2023 | 02-01-2023 | 03-01-2023 | 04-01-2023 | 05-01-2023 |
| --- | --- | --- | --- | --- | --- | --- |
| Amazon | N/A | N/A | N/A | N/A | N/A | 149.68 |
| Drink Supermarket | N/A | N/A | 139.99 | 129.99 | 129.99 | 129.99 |
| Master of Malt | N/A | N/A | N/A | N/A | 108.32 | 108.32 |
| Spirits Kiosk | N/A | N/A | 128.95 | 128.95 | 128.95 | 128.95 |
| The Bottle Club | N/A | N/A | 129.99 | 129.17 | 128.99 | 128.99 |
| The Drink Shop | N/A | N/A | N/A | N/A | 158.60 | 158.60 |
| Tyndrum Whisky | N/A | N/A | 140.00 | 140.00 | 140.00 | 140.00 |
| VIP Bottles | N/A | N/A | 130.37 | 139.99 | 143.95 | 148.99 |
---
Reviews
Let us know your thoughts on a product or view reviews from others. Please note that CasKompare does not verify whether the user has used or purchased the product.
---
Product Information
Yamazaki 12 Year Old is available for the lowest price of £108.32. This is information is sourced from 11 online retailers, confirming this is the most affordable price available at this moment.
Product
Product Properties
| | |
| --- | --- |
| Volume | 700ml |
| Alcohol Content (ABV) | 43% |
| Country of Origin | Japan |
| Created On CasKompare | 02-23-2022 |
Product Description
Yamazaki 12 Year Old is a single malt Japanese whisky produced by Suntory, a Japanese spirits company. It is made from 100% malted barley that has been aged in oak barrels for a minimum of 12 years. Yamazaki 12 Year Old has a rich, full-bodied flavor profile, with flavors and aromas of honey, toffee, and dried fruit. It is a popular Japanese whisky, known for its high quality and reasonable price point. Suntory is a leading producer of Japanese spirits, including whisky, beer, and other alcoholic beverages. The company was founded in 1899 and is known for producing high-quality products using traditional techniques and the finest ingredients. Yamazaki 12 Year Old is bottled at a strength of 43% ABV (alcohol by volume) and is available in a variety of bottle sizes. It is typically enjoyed neat or on the rocks, but it can also be used as a base for cocktails.
Order Now: Experience the smooth taste and rich aroma of Yamazaki Japanese Whisky by ordering your bottle today This premium whisky is the perfect addition to any collection or for sharing with friends. Order now.
About The Brand: Yamazaki
A Japanese whiskey distillery called Yamazaki is situated in Shimamoto, Osaka Prefecture, Japan. It was Japan's first industrial whiskey distillery when it was established in 1923 and was owned by Suntory. In its 'Whiskey Library,' 7,000 bottles of single-malt whisky are on display. Torii Shinjir founded Japan's first malt whiskey distillery, the Yamazaki Distillery, in 1923. In order to create a significant whiskey, the founder and chairman of Kotobukiya (the forerunner of Suntory) employed Taketsuru Masataka, who he designated factory director of the Yamazaki distillery in 1924. In 1918, this Scotsman was a member of a 17th-century sake brewing dynasty. He went to Glasgow University to study, where he saw the production of Scotch whiskey. He traveled to Japan in 1920 with Jessie Roberta 'Rita' Cowan, a Scottish woman he married. The first whiskey produced under Taketsuru was finished in 1929 and sold as shirofuda. Taketsuru quit the business in 1934 because to disagreements with Torii and started the Daju-Nippon Kaju KK firm, eventually known as Nikka Whisky Distilling, in Hokkaid.
Related Video