Yamazaki Bourbon Barrel 2011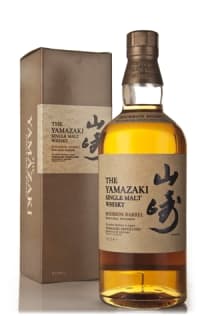 Whisky Information
Average Price: £1250.00 / 700ml
In 2011, Yamazaki launched a delectable version. This was completely matured in first fill bourbon barrels, and there are just 1,000 bottles available in the UK. Quite delicious!
Available Listings In The UK
---
About Yamazaki
A Japanese whiskey distillery called Yamazaki is situated in Shimamoto, Osaka Prefecture, Japan. It was Japan's first industrial whiskey distillery when it was established in 1923 and was owned by Suntory. In its 'Whiskey Library,' 7,000 bottles of single-malt whisky are on display. Torii Shinjir founded Japan's first malt whiskey distillery, the Yamazaki Distillery, in 1923. In order to create a significant whiskey, the founder and chairman of Kotobukiya (the forerunner of Suntory) employed Taketsuru Masataka, who he designated factory director of the Yamazaki distillery in 1924. In 1918, this Scotsman was a member of a 17th-century sake brewing dynasty. He went to Glasgow University to study, where he saw the production of Scotch whiskey. He traveled to Japan in 1920 with Jessie Roberta 'Rita' Cowan, a Scottish woman he married. The first whiskey produced under Taketsuru was finished in 1929 and sold as shirofuda. Taketsuru quit the business in 1934 because to disagreements with Torii and started the Daju-Nippon Kaju KK firm, eventually known as Nikka Whisky Distilling, in Hokkaid.
Related Video