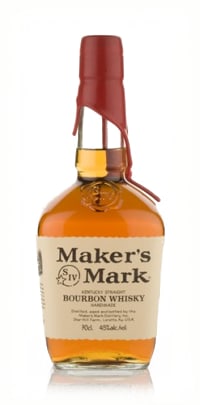 Maker's Mark
Maker's Mark maintain that they distil their bourbon to the lowest proof of any US whiskey distillery. This proffers a bourbon that retains a rich flavour. Developed by Bill Samuels Sr, he replaced ry... Read more
Compare prices from
£21.3
to
£39.99
Listings
Statistics
Reviews
Information
Statistics
The below chart tracks the cheapest price (excluding shipping) over time for Maker's Mark. Each figure represents the average price per month for that online retailer
| Store | 12-01-2022 | 01-01-2023 | 02-01-2023 | 03-01-2023 | 04-01-2023 | 05-01-2023 |
| --- | --- | --- | --- | --- | --- | --- |
| Amazon | N/A | N/A | N/A | N/A | N/A | 28.04 |
| Asda | N/A | N/A | 33.00 | 25.86 | 25.00 | 25.70 |
| Drink Supermarket | N/A | N/A | 25.99 | 25.99 | 25.99 | 25.99 |
| Master of Malt | N/A | N/A | 23.26 | 21.66 | 21.36 | 21.15 |
| Morrisons | N/A | N/A | 28.89 | 27.50 | 30.19 | 25.00 |
| Selfridges | N/A | N/A | N/A | N/A | N/A | 39.99 |
| Spirits Kiosk | N/A | N/A | 26.45 | 26.45 | 26.45 | 26.45 |
| Tesco | N/A | N/A | 28.73 | 29.19 | 26.86 | 29.67 |
| The Bottle Club | N/A | N/A | 25.49 | 25.49 | 25.49 | 25.49 |
| The Drink Shop | N/A | N/A | N/A | N/A | 27.60 | 27.60 |
| The Great Wine Co | N/A | N/A | 39.74 | 43.00 | 43.00 | 43.00 |
| VIP Bottles | N/A | N/A | 21.30 | 26.71 | 28.99 | 28.99 |
| Waitrose | N/A | N/A | 33.50 | 30.84 | 28.65 | 23.00 |
---
Reviews
Let us know your thoughts on a product or view reviews from others. Please note that CasKompare does not verify whether the user has used or purchased the product.
---
Product Information
Maker's Mark is available for the lowest price of £21.3. This is information is sourced from 16 online retailers, confirming this is the most affordable price available at this moment.
Product
Product Properties
| | |
| --- | --- |
| Volume | 700ml |
| Alcohol Content (ABV) | 45% |
| Country of Origin | USA |
| Created On CasKompare | 02-20-2022 |
Product Description
Maker's Mark maintain that they distil their bourbon to the lowest proof of any US whiskey distillery. This proffers a bourbon that retains a rich flavour. Developed by Bill Samuels Sr, he replaced rye with red winter wheat to reduce the burning sensation from the whiskey. ~ Master of Malt
Order Now: Experience the smooth taste and rich aroma of Maker's Mark American Whiskey by ordering your bottle today This budget friendly whisky is the perfect addition to any collection or for sharing with friends. Order now.
About The Brand: Maker's Mark
Beam Suntory produces Maker's Mark, a small-batch bourbon whiskey, in Loretto, Kentucky. It is marketed in square bottles that are sealed with red wax and is bottled at 90 U.S. proof (45% alcohol by volume). The distillery offers tours and is a stop on both the Kentucky Bourbon Trail and the American Whiskey Trail. Because no rye is used in the mash, Maker's Mark is unique. Red winter wheat (16%), maize (70%) and malted barley (14%) are all used in Maker's Mark's mash bill in place of rye. Samuels supposedly designed seven potential mash bills for Maker's Mark during the development stage. He produced a loaf of bread from each recipe instead of distilling and aging them all for taste, and the version without rye was deemed to have the greatest flavor. Owner of Stitzel-Weller Pappy Van Winkle, whose distillery created the wheated Old Fitzgerald and W. L. Weller bourbons, also provided Samuels with a great deal of advice and ideas. Maker's Mark is matured for approximately six years before being bottled and sold after corporate tasters deem it to be ready. One of the few distilleries, Maker's Mark, rotates the barrels from the top to lower floors of the aging warehouses during the maturing process to balance out temperature variations. [25] Rotating the barrels keeps the bourbon consistent in quality and flavor throughout all of the barrels since the top levels are subject to the largest temperature swings throughout the year. Small batch bourbon is how Maker's Mark is promoted. The majority of makers of so-called small batch Bourbons do not define the phrase precisely. A classic definition of bourbon, according to Maker's Mark's manufacturer, is 'a bourbon that is produced/distilled in modest amounts of around 1,000 gallons or less (20 barrels) from a mash bill of around 200 bushels of grain.' Red wax is used to seal the square bottles in which Maker's Mark is packaged for sale. Marjorie 'Margie' Samuels, the wife of T. William Samuels, came up with the idea for the wax dipping that gives the whiskey's bottle its characteristic appearance. She also came up with the whiskey's name and label. In 1959, it was released onto the market. Three different versions are sold: the original, which is bottled at 90 U.S. proof (45% alcohol by volume); a seasonal, limited-edition mint julep taste; and Maker's 46, which is flavored by adding seared French oak staves to the standard charred white oak barrel at the conclusion of its age. Maker's Mark is currently offered with up to 57% alcohol concentration as of 2021. (114 proof). One of the few American-made whiskies that utilizes the Scottish spelling of 'whisky' rather of the more common American 'whiskey' is Maker's Mark, along with George Dickel and Old Forester.
Related Video