House of Suntory's Grand Centennial Celebration with Hibiki Whiskies
The House of Suntory, an iconic Japanese whisky producer, is set to dazzle the world with two exquisite expressions of Hibiki whisky as part of its grand centenary celebration. This momentous occasion commemorates a century since the establishment of Japan's very first malt whisky distillery, Yamazaki, by the visionary founder Shinjiro Torii in 1923. The House of Suntory, renowned for its commitment to crafting exceptional spirits, is taking this milestone as an opportunity to showcase its rich heritage and innovation.
Hibiki's Enduring Legacy
Hibiki, originally introduced to the world in 1989, has consistently been among the most beloved Japanese blended whiskies. As part of the centenary festivities, the House of Suntory is unveiling two remarkable offerings: the Hibiki 21 Years Old and a limited-edition bottle design for Hibiki Japanese Harmony.
Hibiki 21 Years Old: A Symphony of Flavors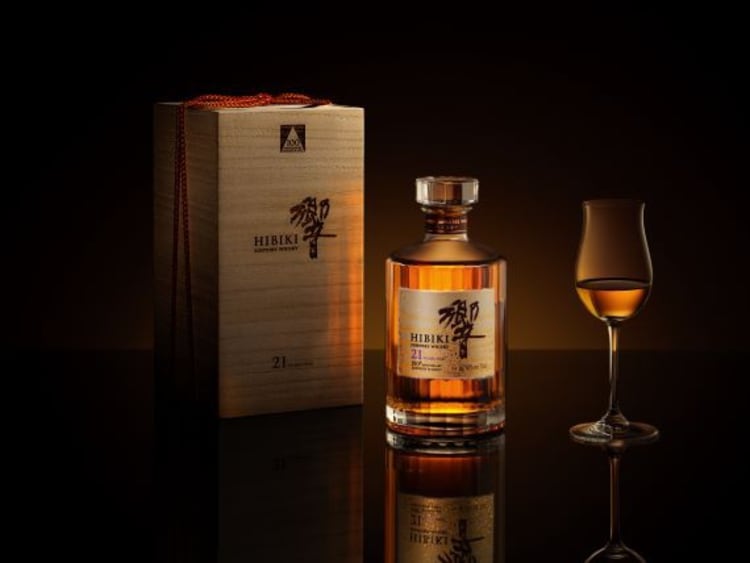 The centerpiece of this celebration is the Hibiki 21 Years Old, a blend of malt and grain whiskies that showcases the pinnacle of Japanese whisky craftsmanship. This special edition takes the art of blending to new heights, featuring spirit matured in rare mizunara oak casks—a wood known for its profound influence on whisky character.
Chief Blender Shinji Fukuyo, a true master of his craft, led the team in crafting this exceptional expression. The challenge was to harness the unique characteristics of Japanese mizunara oak while preserving the essence of Hibiki whiskies. The result is a whisky that not only honors tradition but also embodies the House of Suntory's unwavering dedication to craftsmanship.
The Hibiki 21 Years Old, bottled at a dignified 43% ABV, is a testament to precision and expertise. Its label design, featuring elegant color gradients, evokes the majestic beauty of a Japanese sunrise—a fitting representation of the brand's heritage and future.
Hibiki Japanese Harmony: Artistry in Design and Taste
Accompanying the Hibiki 21 Years Old is a limited-edition bottle design for Hibiki Japanese Harmony, showcasing the House of Suntory's commitment to the art of monozukuri craftsmanship. This exquisite bottle design features motifs representing the changing seasons in Japan—snow, the moon, and flowers—all symbols of the country's profound connection with nature and time.
The label also incorporates the 'Kakehashi' bridge, signifying the emotional bond that the Japanese people share with the unique seasonality of their homeland. It's a celebration of time and an embodiment of the appreciation deeply rooted in Japanese culture—a sentiment that resonates and inspires Hibiki.
A Journey Through Flavor Profiles
The Hibiki 21 Years Old offers a captivating sensory experience. With notes of kumquat and jasmine on the nose, complemented by hints of Japanese incense, it presents a delicately sweet and floral palate. Subtle spices like sandalwood and agarwood add complexity, leading to a long and deep finish with the nuanced flavors of spiced Mizunara wood.
Meanwhile, the Hibiki Japanese Harmony presents an amber-hued whisky that delights the senses with notes of rose, lychee, and a hint of rosemary on the nose. On the palate, it offers honey-like sweetness, candied orange peel, and white chocolate. The finish is a graceful culmination, leaving a gentle trace of mizunara oak.
Availability and Pricing
The Hibiki 21 Years Old, a true masterpiece, is priced at £5,200 (approximately $6,439) for a 700ml bottle. Whisky enthusiasts can acquire this exceptional expression from select retailers, including renowned names like Harrods, Harvey Nichols, and The Whisky Shop. The release is scheduled for October, so mark your calendars for this momentous occasion.
For those seeking the artistry of Hibiki in a different form, the limited-edition bottle design for Hibiki Japanese Harmony is available at a suggested retail price of £210 (approximately $260). This elegant bottle will also be found at select retailers, including Harrods, Harvey Nichols, The Whisky Exchange, and The Whisky Shop, starting in October.
As the House of Suntory raises a glass to a century of excellence, these exceptional Hibiki expressions are not just whiskies; they are a celebration of craftsmanship, heritage, and the enduring legacy of Japanese whisky. So, whether you're a seasoned connoisseur or a newcomer to the world of whisky, these centennial offerings are a must-have for your collection.
About Hibiki
Hibiki is a prestigious and highly regarded Japanese whisky brand known for its exceptional craftsmanship and dedication to producing some of the finest blended whiskies in the world. The brand is produced by Suntory, one of Japan's most prominent and respected distilleries with a rich history dating back to 1899. Hibiki was first introduced to the market in the 1980s and has since gained international acclaim for its superb quality and elegant presentation.
One of Hibiki's distinguishing characteristics is its commitment to blending. Japanese whisky, in general, is known for its meticulous blending techniques, and Hibiki exemplifies this tradition. The master blenders at Suntory painstakingly select and harmonize a variety of malt and grain whiskies from their different distilleries, each with its unique characteristics. This art of blending results in a whisky that is smooth, well-balanced, and exceptionally refined.
Hibiki's bottles are as renowned for their aesthetics as they are for their contents. The design of the bottles often reflects traditional Japanese craftsmanship and culture. The most iconic bottle in the Hibiki range is the 24-faceted bottle, representing the 24 seasons of the Japanese lunar calendar. This attention to detail in packaging not only adds to the allure of the whisky but also showcases the brand's deep-rooted connection to Japanese heritage.
The core expression of Hibiki, the Hibiki Japanese Harmony, is a blended whisky that exemplifies the brand's commitment to balance and elegance. It is known for its harmonious combination of flavors, with notes of honey, citrus, and subtle spices. The whisky's smooth and mellow character has made it a favorite among whisky enthusiasts and collectors around the world.
In addition to the Japanese Harmony, Hibiki offers a range of other expressions, including limited edition releases and older age statement whiskies, each with its distinct flavor profile and character. These expressions often showcase the artistry of the master blender and the diversity of whiskies produced by Suntory.
Overall, Hibiki is celebrated not only for its exceptional whisky but also for its embodiment of Japanese culture, craftsmanship, and precision. It continues to be a symbol of the growing global appreciation for Japanese whisky and the dedication of Suntory to producing world-class spirits.
About The House of Suntory
The House of Suntory is a legendary Japanese whisky and spirits producer with a rich heritage dating back to 1899. Founded by Shinjiro Torii, it began as a small wine and spirits store in Osaka, Japan, and later evolved into one of the most respected and influential distilleries in the world. Suntory's commitment to craftsmanship, quality, and innovation has earned it a prominent place in the global spirits industry.
One of the key aspects of The House of Suntory's success is its meticulous approach to whisky production. The distillery takes pride in the art of blending, combining various malt and grain whiskies to create harmonious and well-balanced expressions. Their approach to blending is guided by a deep understanding of the unique characteristics of each whisky, resulting in a diverse portfolio of whiskies, each with its distinctive flavor profile.
The House of Suntory is also known for its adherence to traditional Japanese values and principles in its whisky-making process. This includes a strong emphasis on craftsmanship, precision, and a profound respect for nature. Suntory believes that the quality of water and the environment plays a crucial role in the production of exceptional whisky, and they have carefully selected locations with pristine water sources for their distilleries.
One of the most famous expressions produced by The House of Suntory is the Yamazaki Single Malt Whisky. Yamazaki is Japan's oldest malt whisky distillery, and it has garnered international acclaim for its high-quality single malts. The whisky often showcases the influence of Japanese oak (mizunara) casks, which impart unique flavors and aromas to the final product.
Suntory's commitment to innovation is also evident in their Hibiki brand, which is renowned for its meticulous blending techniques and artistic packaging. The brand's bottles often feature intricate designs inspired by Japanese culture and craftsmanship, making them collector's items in their own right.
Over the years, The House of Suntory has expanded its portfolio to include a wide range of spirits, including gin, vodka, and other premium liqueurs. This diversification reflects the company's dedication to crafting exceptional spirits while embracing new opportunities in the ever-evolving world of beverages.
In summary, The House of Suntory stands as a beacon of excellence in the world of whisky and spirits. Its commitment to traditional Japanese values, dedication to craftsmanship, and passion for innovation have not only shaped its reputation but have also contributed to the global recognition and appreciation of Japanese whisky and spirits.