Glen Scotia Distillery, known for its rich history and commitment to quality craftsmanship, is proud to unveil the first installment of its Icons of Campbeltown series: "The Mermaid." This exceptional release pays homage to the vibrant community spirit of Campbeltown, a town with a profound influence on Glen Scotia's legacy. The whisky, presented at a price of £90.00, offers a captivating narrative woven into every sip.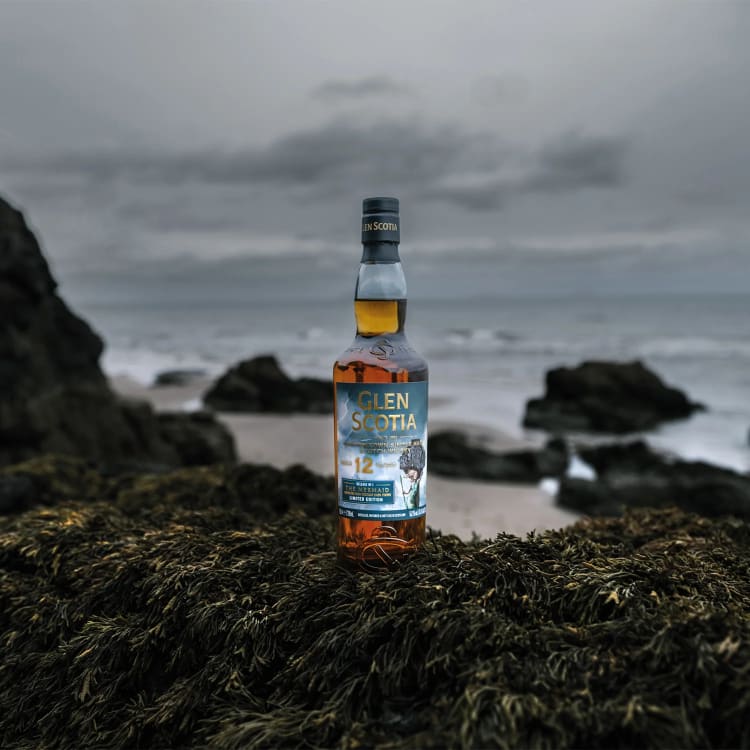 The Icons of Campbeltown series draws its inspiration from the Campbeltown Market Cross, a historic and revered community gathering place adorned with intricate carvings of saints and mythical creatures. Glen Scotia has collaborated with the renowned artist Joel Holtzman, known for his work with industry giants such as Lucasfilm, Marvel, Disney, and Macmillan, to breathe life into each of these iconic figures.
In the inaugural release, "The Mermaid," Glen Scotia commemorates a remarkable event in the town's history—a sighting of a mermaid along its coastline. This bewitching encounter serves as the muse for this exquisite expression. To amplify the mystique of the mermaid's appearance, Glen Scotia has chosen a Palo Cortado sherry cask finishing, elevating the unpeated coastal and saline cask strength spirit to new heights.
At its core, Glen Scotia's whisky is shaped by the coastal climate that envelops Campbeltown. Whether folklore or the result of a spirited gathering, mermaid sightings have been a recurring theme, particularly during the bustling 1800s when the town's distilling industry was flourishing. To mark this milestone, Glen Scotia presents a subtly coastal, floral, and delicate unpeated twelve-year-old single malt whisky that has matured to perfection. Its finishing in Palo Cortado sherry casks, a rarity in itself, adds an extra layer of uniqueness to this release, symbolizing the extraordinary nature of mermaids.
The Mermaid is a testament to Glen Scotia's commitment to excellence and authenticity. With an impressive alcohol by volume (ABV) of 54.1% at cask strength, this limited-edition whisky is presented in a 70cl bottle with its natural color intact, proudly declaring its non-chill filtration. Aged for a commendable 12 years, it encapsulates the spirit of Campbeltown, preserving tradition while embracing innovation.
Tasting Notes
Charles Maclean, a respected whisky writer, provides his expert tasting notes for The Mermaid:
Appearance: The whisky presents itself in a deep amber, polished mahogany hue, displaying good beading and thick legs, a sign of its texture.
Aroma: The nose is rich, mellow, and slightly drying, evoking maritime salt crystals, boat varnish, and edible seaweed. It offers a delightful blend of thick fruity tarte tatin, Dundee Seville marmalade, and tablet toffee.
Taste: On the palate, The Mermaid offers a creamy texture with a lightly sweet center, reminiscent of French apple tart with a pinch of salt.
Finish: The whisky concludes with a long and warming finish, leaving behind a savory aftertaste and a touch of spice.
The creative genius behind the visual representation of The Mermaid is artist Joel Holtzman, who hails from the Netherlands and has an illustrious portfolio working with iconic brands like Marvel, Disney, and Lucasfilm. Collaborating with Glen Scotia, Joel explored the story of John McIsaac's (also known as M'Isaac's) mermaid sighting and the eerily detailed descriptions provided by him and fellow community members. Joel's artistic journey to bring this historical event to life involved initial rough sketches that focused on capturing the mood, followed by intricate detailing that adds depth to the painting.
"The Mermaid" is more than just a whisky; it is a masterful blend of history, artistry, and craftsmanship. Glen Scotia invites whisky connoisseurs and enthusiasts to embark on a sensory journey that combines the mystique of mermaids with the unparalleled quality of Glen Scotia's whisky-making tradition. With aromas of sea breeze, citrus oils, and toasted hazelnuts on the nose, and flavors of salted caramel, walnut, and polished oak on the palate, "The Mermaid" offers a truly enchanting experience that pays tribute to the Campbeltown community and its enduring spirit.
Buy The Glen Scotia The Mermaid
The Mermaid Experience
Part of the launch of the mermaid is an online experience about the tale of the mermaid. This well put together visual and audio journey takes you back in time to experience a famous sighting of a mermaid off the shores of Campbeltown. The tale is told over via a storybook visualization that lets you turn the pages of the book.
About Joel Holtzman
Joel Chaim Holtzman is an illustrator and concept artist from the Netherlands. He is currently working in the entertainment industry and on his worldbuilding. Holtzman's artwork can be viewed on various platforms, including ArtStation, DeviantArt, and his personal portfolio website. He has created character designs and illustrations for various projects and clients, including Brotherwise Games. Holtzman has also given lectures about illustration and concept art at the Dutch Comic Con.
Joel's artwork is inspired by biblical themes, ancient cultures, and fantasy. Holtzman's portfolio includes character designs, illustrations, and concept art for various projects and clients. He has also given lectures about illustration and concept art.
Learn more about Joel on his website.
About Glen Scotia
Glen Scotia is a historic and renowned Scotch whisky distillery located in the coastal town of Campbeltown, Scotland. Established in 1832, it has a long and storied history in the world of single malt Scotch whisky production. Glen Scotia is one of the three remaining distilleries in Campbeltown, a region that was once a thriving center for whisky production and is known for its distinctive maritime-influenced style.
The distillery's location near the sea plays a crucial role in shaping the character of its whisky. The coastal environment infuses the whisky with briny and maritime notes, contributing to its unique flavor profile. Glen Scotia's whiskies often display a balance of sweet, fruity, and salty notes, with some expressions also showcasing peaty and smoky elements.
Glen Scotia offers a diverse range of single malt Scotch whiskies to cater to various preferences. Their core range includes expressions such as Glen Scotia Double Cask and Glen Scotia 15 Year Old. The Double Cask, for example, is known for its combination of bourbon and Pedro Ximénez sherry cask maturation, resulting in a rich and well-rounded flavor profile.
In addition to their core range, Glen Scotia has released limited edition and special cask finish expressions that showcase their commitment to innovation and craftsmanship. These releases often feature unique cask types and aging techniques, appealing to collectors and whisky enthusiasts seeking unique flavor experiences.
The distillery is open to visitors, offering tours and tastings that provide insights into its history, production process, and the opportunity to sample a selection of their whiskies. The opportunity to explore the distillery and its coastal surroundings adds to the charm of a visit to Glen Scotia, making it a memorable experience for whisky enthusiasts.
In summary, Glen Scotia is a respected name in the world of single malt Scotch whisky, known for its maritime-influenced character, diverse range of expressions, and commitment to quality and tradition. Its role as one of the few remaining distilleries in Campbeltown solidifies its place in the rich history of Scotch whisky production.
[Photo Credit: Glen Scotia]