The Glendronach Cask Strength Batch 11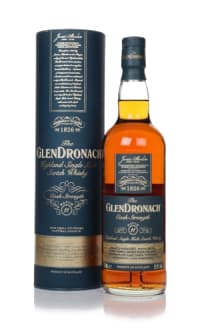 Whisky Information
Average Price: £74.74 / 700ml
The GlenDronach Cask Strength Batch 11 is a limited release single malt Scotch whisky from the GlenDronach distillery in the Scottish Highlands. It is bottled at cask strength, meaning it has not been watered down to a lower alcohol content and retains the strength at which it was matured in the barrel. The Batch 11 release is a non-age statement whisky, meaning the age of the youngest whisky in the blend is not disclosed. The whisky is matured in a combination of Oloroso sherry casks and Pedro Ximenez sherry casks, giving it rich and sweet flavor notes of dark fruit, toffee, and spices. The GlenDronach distillery is known for its commitment to traditional production methods and the use of sherry casks in the maturation process, which are said to contribute to the distillery's signature rich and fruity character.
Available Listings In The UK
---
About GlenDronach
The Highland whisky region in Aberdeenshire includes the area around the Glendronach distillery, a Scottish whiskey producer. The BenRiach Distillery Company Ltd. owned it. James Allardes (commonly referred to as Allardice) established the distillery in 1826 as the second distillery to submit an application for a permit to lawfully make whiskey under the Excise Act of 1823, which was passed three years earlier and permitted the distillation of whisky in Scotland. Other versions attribute the distillery's founding to a group of farmers and tradesmen, who could include Allardes. Around 1960, Teachers and Sons Ltd bought the Glendronach distillery and doubled its capacity from two to six stills. Allied Distillers Limited closed the distillery in 1996 and restarted it in 2002. The distillery was acquired by Chivas Brothers Ltd, a company that is a member of the Pernod Ricard group, in 2006, and was then sold to the BenRiach Distillery Company in 2008. Walter Scott, who bought it in 1881, and Charles Grant, the son of the distillery's founder, who bought it in 1920, are two other important owners.
Related Video