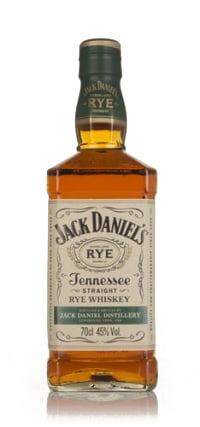 Jack Daniel's Tennessee Rye
The Jack Daniel's range grew in 2017 with the introduction of their Tennessee Rye whiskey - the first whiskey from the distillery with a mash-bill that different from the classic Tennessee Whiskey sin... Read more
Compare prices from
£20
to
£29.9
Listings
Statistics
Reviews
Information
Statistics
The below chart tracks the cheapest price (excluding shipping) over time for Jack Daniel's Tennessee Rye. Each figure represents the average price per month for that online retailer
| Store | 01-01-2023 | 02-01-2023 | 03-01-2023 | 04-01-2023 | 05-01-2023 | 06-01-2023 |
| --- | --- | --- | --- | --- | --- | --- |
| Amazon | N/A | N/A | N/A | N/A | 20.67 | 25.54 |
| Asda | N/A | 24.00 | 25.60 | 25.79 | 22.46 | 27.27 |
| Drink Supermarket | N/A | 29.89 | 29.89 | 29.89 | 29.89 | 29.89 |
| Master of Malt | N/A | N/A | 29.90 | 26.91 | 24.92 | 24.90 |
| Spirits Kiosk | N/A | 29.45 | 29.45 | 29.45 | 29.45 | 29.45 |
| The Bottle Club | N/A | 29.49 | 29.49 | 29.49 | 29.49 | 28.99 |
---
Reviews
Let us know your thoughts on a product or view reviews from others. Please note that CasKompare does not verify whether the user has used or purchased the product.
---
Product Information
Jack Daniel's Tennessee Rye is available for the lowest price of £20. This is information is sourced from 6 online retailers, confirming this is the most affordable price available at this moment.
Product
Product Properties
| | |
| --- | --- |
| Volume | 700ml |
| Alcohol Content (ABV) | 45% |
| Country of Origin | USA |
| Created On CasKompare | 02-18-2022 |
Product Description
The Jack Daniel's range grew in 2017 with the introduction of their Tennessee Rye whiskey - the first whiskey from the distillery with a mash-bill that different from the classic Tennessee Whiskey since Prohibition! It features a core of 70% rye, supported by 18% corn and 12% malted barley, and enjoys the same charcoal filtration as their other expressions. ~ Master of Malt
Order Now: Experience the smooth taste and rich aroma of Jack Daniel's American Whiskey by ordering your bottle today This budget friendly whisky is the perfect addition to any collection or for sharing with friends. Order now.
About The Brand: Jack Daniel's
Tennessee whiskey is sold under the brand name Jack Daniel's. It is created at the Jack Daniel Distillery in Lynchburg, Tennessee, which has been a part of the Brown-Forman Corporation since 1956. In the fiscal year that ended on April 30, 2017, Jack Daniel's 'Black Label' Tennessee whiskey, which comes in square bottles, sold 12.5 million nine-liter cases. More than 16.1 million equivalent adjusted cases for the whole Jack Daniel's family of brands, including other brand variants including Tennessee Honey, Gentleman Jack, Tennessee Fire, and ready-to-drink (RTD) products. Jack Daniel's is distilled in copper stills from a mash that contains 80% maize, 12% rye, and 8% malted barley. Then, 10-foot (3.0 m) stacks of sugar maple charcoal are used to filter it. This screening process is referred to as 'mellowing' by the corporation. The Lincoln County Process, an additional step, eliminates contaminants and corn flavor. According to the manufacturer, this additional process distinguishes the product from bourbon. However, in accordance with the requirements of the North American Free Trade Agreement and Canadian legislation, Tennessee whiskey must be 'a straight Bourbon Whiskey.' The Jack Daniel's brand grinds its charcoal before utilizing it for filtration, which makes the process stand apart. After filtration, the whiskey is kept in freshly made, hand-crafted oak barrels, which are responsible for much of the whiskey's flavor and color. It is described as a 'sour mash' whiskey on the product label, which indicates that some of the wet solids from an earlier batch are added while making the mash in order to improve the consistency of the fermentation process. In the manufacture of American whiskey, this is standard procedure. (As of 2005, the sour mash method is used to make all pure bourbon.) Prior to 2014, Brown-Forman in Louisville, Kentucky, produced the company's barrels. The business started a second cooperage in Trinity, Alabama, that same year.
Related Video