The Deacon scotch whisky was launched on Feb 3rd, 2023 by wine and spirits company Sovereign Brands in association with French spirits tycoon Pernod Ricard. In a press release, Sovereign Brands made the bold claim that The Deacon, the company's inaugural whisky offering, "is ready to upset the whisky category."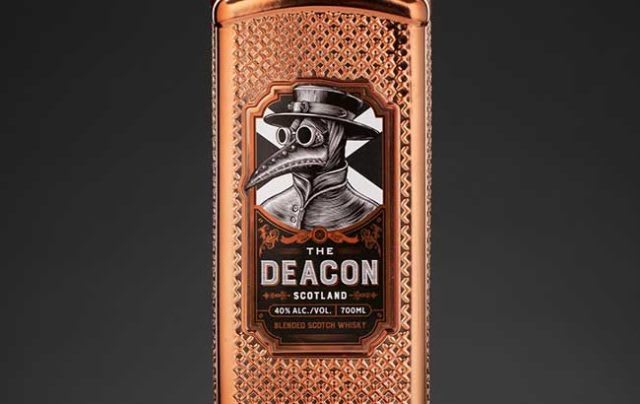 The Deacon is a blended Scotch whiskey made from single malt spirits from Islay and Speyside, marking Sovereign Brands' entry into the whisky market. It is packaged in an engraved copper bottle with a 40% alcohol by volume content, taking its cue from the copper pot stills common in many Scotch whisky distilleries.
According to Sovereign Brands, the word "deacon" in Scottish refers to someone who is skilled in a certain craft or trade.
"We've lent our disruptive style to our first Scotch whisky, creating a premium and compelling product that is like nothing else on the market. We've moved away from traditional labeling and bottle design with a metallic copper package and an unorthodox label. Most importantly, this is the most well-balanced, complex but drinkable taste profile. It is layered but smooth, making The Deacon a whisky that is made to be enjoyed." ~ Sovereign Brands CEO Brett Berish
Sovereign Brands is a premium alcoholic beverage company that specializes in producing and marketing high-quality spirits such as whisky, rum, brandy, and liqueurs. The company was founded in the early 2000s and has since established itself as a leading producer of premium spirits, with a strong reputation for quality, innovation, and customer satisfaction. Some of their popular products include the Bumbu rum, Brewdog whisky, and D'USSÉ cognac. Sovereign Brands operates globally, with a strong presence in North America, Europe, and Asia, and has partnerships with some of the leading retailers, distributors, and bars in the industry.
In 2021, Pernod Ricard acquired a small investment in the business; in October of last year, it boosted that position "substantially."
Check out the video released to promote The Deacon scotch whisky: