Bunnahabhain, the esteemed single malt Scotch whisky brand, has joined forces with The Whisky Exchange to introduce a remarkable whisky that has been maturing in a single oloroso sherry butt for over three decades.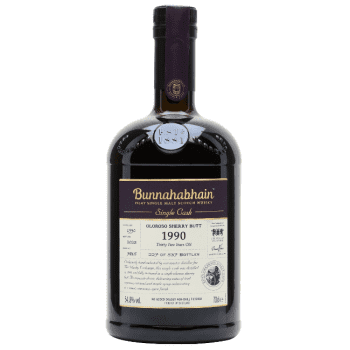 Available exclusively through The Whisky Exchange, this exceptional spirit comprises only 537 bottles, each offered at a price of £2,000 (US$2,505).
Bottled in 2023 with a robust alcohol content of 54.8%, the Bunnahabhain 1990 is characterized by its intricate layers of sticky caramel and sweet spice, a result of its extensive 32-year aging process. This extended maturation is thought to harmoniously enhance the distillery's inherent character without overwhelming it.
Renowned for its "unparalleled flavor profile," this whisky boasts a rich tapestry of flavors, including coffee, well-worn leather, and dried fruit, which lay the foundation for prominent notes of incense spice and rum-soaked dried fruits. The experience culminates with a lingering rancio finish.
Description By The Whisky Exchange
A lavish and robust Bunnahabhain single malt, handpicked exclusively for The Whisky Exchange and meticulously bottled in 2023 following an extended maturation of over three decades within a solitary oloroso sherry butt. Over the course of these years, it has nurtured intricate layers of sweet spices, luscious caramel, and velvety chocolate with a delightful interplay of Bunnahabhain's inherent fruity and malty essence. This whisky presents a sumptuous backdrop enriched with the nuances of aromatic coffee, well-aged leather, rancio, and dried fruits, all thoughtfully harmonizing with the distillery's character, without overwhelming its unique attributes.
About The Whisky Exchange
The Whisky Exchange is a well-regarded and prominent player in the world of whisky retailing. Established by brothers Sukhinder Singh and Rajbir Singh, it has earned a reputation as a go-to destination for whisky enthusiasts and connoisseurs alike. Since its inception, The Whisky Exchange has become synonymous with offering an extensive and diverse selection of whiskies from around the world, making it a treasure trove for those seeking unique and rare spirits.
One of the defining features of The Whisky Exchange is its commitment to curating an exceptional collection of whiskies. The store's inventory spans a wide spectrum, including rare and limited-edition releases, classic expressions from renowned distilleries, and a variety of styles and regions, catering to whisky lovers with diverse preferences.
In 2021, The Whisky Exchange underwent a significant change in ownership when French drinks producer Pernod Ricard acquired it. This acquisition marked a noteworthy development in the whisky industry, aligning a major spirits company with a renowned whisky retailing establishment. While the specifics of the acquisition remain undisclosed, it signaled a recognition of the store's importance in the whisky market.
Beyond retailing whisky, The Whisky Exchange has embarked on an ambitious venture by pursuing the establishment of a distillery on the storied island of Islay. This endeavor represents a new chapter for the company, showcasing a dedication to not only selling whisky but also producing it, adding an exciting dimension to its presence in the whisky world.
The Whisky Exchange stands as a testament to the passion and expertise of its founders, offering a vast and diverse range of whiskies while also making significant moves in the industry, such as the acquisition by Pernod Ricard and the pursuit of distillation on Islay. It remains a respected institution for whisky enthusiasts, providing them with access to an array of exceptional spirits and a glimpse into the evolving landscape of whisky production and retail.
About Bunnahabhain Distillery
Bunnahabhain Distillery, nestled on the remote and rugged island of Islay off the west coast of Scotland, holds a unique position in the world of Scotch whisky. Known for its unpeated or lightly peated malts, Bunnahabhain offers a distinct and contrasting flavor profile compared to the heavily peated whiskies often associated with Islay. This characteristic sets it apart and makes it a favorite among whisky aficionados seeking a different experience.
Founded in 1881, Bunnahabhain has a rich history that spans over a century. The distillery's name, pronounced as "Boo-nuh-HAH-ven," translates to "mouth of the river" in Gaelic, a nod to its picturesque location near the Margadale River. This serene setting, surrounded by stunning natural beauty, contributes to the unique character of its whiskies.
One of Bunnahabhain's distinguishing features is its commitment to using traditional methods in whisky production. They employ copper pot stills for distillation, and their focus on craftsmanship and meticulous attention to detail results in spirits of exceptional quality. The use of wooden washbacks and a dedication to longer fermentation periods further enhance the complexity of their whisky.
Bunnahabhain's maturation process is a crucial aspect of its whisky production. The distillery often utilizes a variety of cask types, including ex-bourbon and sherry casks, to age its spirits. The influence of these casks, combined with the unique Islay climate, contributes to the development of the whisky's flavors, which typically include notes of fruit, nuts, and a gentle coastal influence.
Over the years, Bunnahabhain has released a range of expressions to cater to different palates. While their core range includes both age-statement and non-age statement bottlings, the distillery is also known for offering limited-edition releases that showcase the depth and diversity of their whisky portfolio.
Bunnahabhain Distillery is committed to unpeated and lightly peated malts, traditional methods, and a stunning natural backdrop, Bunnahabhain continues to captivate whisky enthusiasts seeking a distinctive and captivating Scotch whisky experience.