The Scotch Malt Whisky Society in honour of its 40th anniversary is releasing a scotch bonnet chilli-infused whisky as well as a scotch whisky ice cream infused with hot chilli peppers.
The New Scotch Bonnet Chilli-Infused Whisky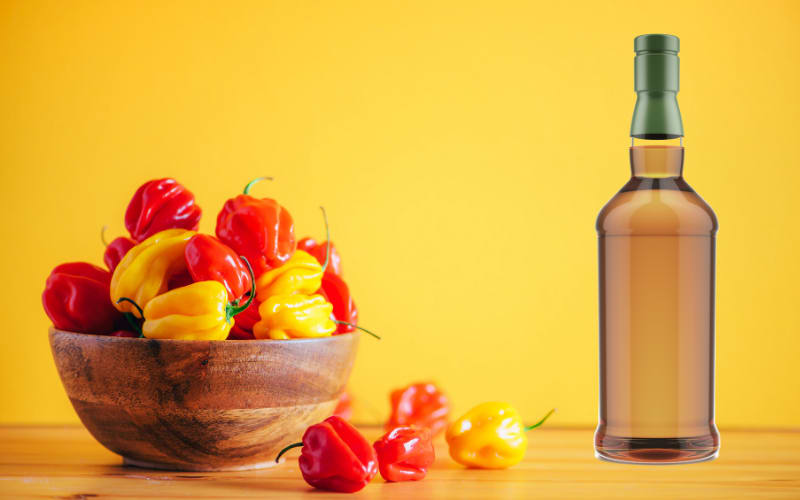 In what promises to be an exhilarating scotch summer, the Scotch Malt Whisky Society (SMWS) has collaborated with Professor Brendan Walker, renowned as the world's only "Thrill Engineer," to unveil a unique Scotch Bonnet Chili Whisky. This audacious venture, initiated 17 years ago, involved adding 100 slices of Scotch Bonnet chilies to a cask of 10-year-old single malt.
Although this daring act of adding chilli resulted in the spirit losing its designation as Scotch whisky, the outcome, as described by Walker, has the fascinating effect of "triggering the release of dopamine," offering an exciting sensory experience.
The SMWS Executive Chef, James Freeman, conducted a series of culinary experiments with the spirit, aptly named Exp. 01, revealing its gastronomic potential. Freeman discovered that Exp. 01 harmoniously accompanied various dishes, such as mussels, anchovies, teriyaki salmon, and a delectable chocolate tart.
For those seeking to indulge in Exp. 01 through cocktails, SMWS Ambassador Logan Shaw recommends mixing it with tonic water, ice, and a hint of lime, resulting in a highball with an invigorating kick. Exp. 01 is available in limited quantities as part of a new Society membership offer, as communicated by SMWS.
Helen Stewart, the Head of Brand Marketing and Membership at SMWS, expressed delight in this daring cask experiment during their 40th Anniversary Celebration, celebrating the adventurous spirit that their founder, Pip Hills, exemplified.
The SMWS has a history of releasing distinctive expressions, and this latest experimental spirit adds to their repertoire of intriguing whiskies. In addition to unique releases, they have showcased whiskies matured in a blend of Spanish oak sherry casks, ex-bourbon casks, and first-fill American sherry casks, receiving favourable reviews.
Professor Brendan Walker, reflecting on the chemistry behind this thrilling creation, explained how the combination of whisky's methanol and aromatic higher alcohols, along with the capsaicin found in chilli, leads to the release of dopamine, resulting in a pleasurable, peppery effect. Walker further encouraged adventurous consumption, suggesting its use in cocktails, incorporation into creamy haggis sauces, or even tasting a single drop to experience an explosion of excitement in the mind and body.
In conclusion, the SMWS's Scotch Bonnet Chili Whisky, Exp. 01, epitomises the spirit of experimentation and adventure, offering whisky enthusiasts and culinary enthusiasts a unique and exciting journey through its pleasurable and spicy delights.
A Scotch Whisky Ice Cream Infused With Hot Chili Peppers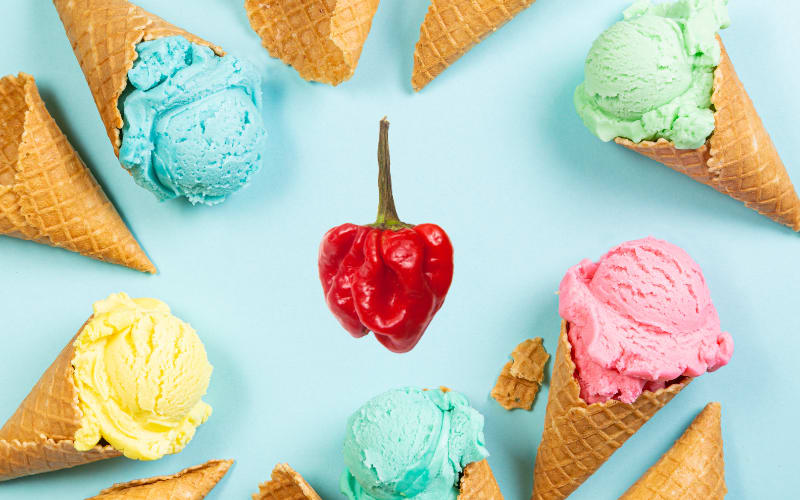 If the enticing notion of savouring Chili-infused scotch ice cream has you thrilled, and you happen to be spending your summer in Scotland, an exciting treat awaits you courtesy of The Scotch Malt Whisky Society (SMWS). The SMWS, in collaboration with the Edinburgh-based gelateria, Joelato, has unveiled this tantalising and spirited creation.
The delightful gelato, aptly dubbed "Pink Derby Sorbet," showcases Exp. 01 (mentioned above) as the base, complemented with the vibrant essence of grapefruit. The versatile Exp. 01 has been noted for its exceptional compatibility with a wide range of dishes, including anchovies and chocolate tarts, further highlighting its culinary appeal.
The integration of Exp. 01 into this frozen dessert represents yet another testament to its adaptability and its affinity for gastronomic adventures, as affirmed by the brand. Helen Stewart, the Head of Brand Marketing and Membership at SMWS, expressed enthusiasm for Joelato's imaginative sorbet creation, lauding it as a captivating way to experience one of the Society's more experimental bottlings.
The growing popularity of alcoholic ice cream concoctions is evident in the market, with Alcoholic Ice Cream in the U.S. estimated to be valued at $566.8 million in 2023, according to Future Market Insights.
To celebrate the organisation's 40th anniversary, Joelato has plans to serve more of this enticing sorbet to the Scotch Malt Whisky Society's members during a special event, further solidifying the successful partnership between the two entities.
Joe Sykes, the founder of Joelato, expressed delight in collaborating with The Scotch Whisky Society for the launch of Exp. 01. He praised the downright deliciousness of Exp. 01, noting that its complexity and spiciness harmoniously complement the punchy citrus sorbet, resulting in the delightful Pink Grapefruit Derby. Sykes conveyed his utmost satisfaction with the outcome, showcasing the joy and creativity brought forth by this delightful union.
About The Scotch Malt Whisky Society (SMWS)
The Scotch Malt Whisky Society (SMWS) is a prestigious and well-respected whisky club and independent bottler based in Edinburgh, Scotland. Established in 1983 by a group of whisky enthusiasts led by Pip Hills, the SMWS has grown into an influential organisation with a global presence, dedicated to the appreciation and exploration of single malt whiskies.
Key features and aspects of The Scotch Malt Whisky Society include:
Independent Bottler: The SMWS is renowned for its role as an independent bottler. It sources casks of single malt whisky from various distilleries across Scotland and other countries, bottles them under their label, and offers them exclusively to their members.
Single Cask Offerings: Each whisky released by the SMWS is from a single cask, which means that each expression is unique and limited in quantity. These bottlings are often non-chill filtered and presented at cask strength, preserving the original character of the whisky.
Membership: The SMWS operates on a membership basis, and whisky enthusiasts can become members to gain access to their exclusive bottlings. Members receive a variety of benefits, including the opportunity to purchase rare and limited-edition whiskies, attend whisky tastings, and participate in special events.
Experimental Approach: The SMWS is known for its adventurous and experimental approach to whisky. They often release whiskies from lesser-known distilleries, unusual cask types, and innovative flavour combinations, offering members a diverse range of whisky experiences.
Tasting Panel: The society has an expert tasting panel that evaluates and selects the casks for bottling. They assign unique codes to each bottling, providing intriguing and sometimes cryptic names to preserve the anonymity of the distilleries.
Global Reach: The SMWS has a global presence, with branches and members across many countries. It has expanded beyond Scotland and has a significant following in various whisky-loving communities worldwide.
Events and Gatherings: The SMWS hosts a variety of whisky-related events, including tastings, masterclasses, and whisky festivals, bringing together whisky enthusiasts and connoisseurs to share their passion for the spirit.
Whisky Education: The SMWS is committed to whisky education and often provides members with detailed tasting notes and insights into the whiskies they release, fostering a deeper understanding of the nuances and complexities of single malt whisky.
Overall, The Scotch Malt Whisky Society has earned a reputation for its commitment to quality, innovation, and the celebration of the diverse world of single malt whisky. It continues to be a cherished institution for whisky enthusiasts seeking unique and memorable whisky experiences.