If you have a spare £110K-£200K to throw around and you are a whisky connoisseur who appreciates an old whisky - this may be for you. Sotheby's is holding an auction for an 81 year old whisky which is thought to be the world's oldest whisky according to Sotheby's broker. The whisky is named "The Macallan The Reach"
The Macallan The Reach
Bottled at 41.6% ABV
Colour: Deep auburn
One of only 288 bottles ever released to market
Master Whiskymaker: Kirsteen Campbell
Notes from the whisky maker:
Nose: Dark chocolate, sweet cinnamon, aromatic peat, plums, leather, pink grapefruit, redcurrant jelly and a rich resinous note.
Palate: Treacle toffee, bramble jam, liquorice, crystalised ginger, nutmeg, charred pineapple, pecans, woodsmoke.
Finish: Intensely rich, sweet and smoky.
This whisky was distilled in 1940 and bottled from a single, sherry seasoned oak cask. The bottle is a mouth-blown glass decanter which rests on a sculpture made from bronze of three hands that represent characters in the history of the Macallan primarily the workers from 1940, the former Macallan chairman Allan Shiach, and today's master whisky maker, Kirsteen Campbell. The case is constructed from wood from a fallen elm tree from the year 1940 which is said to have been on the Macallan Estate. The final touch is that the case is lined in red leather which reflects the red streak that has been continuous in Macallans branding since the beginning.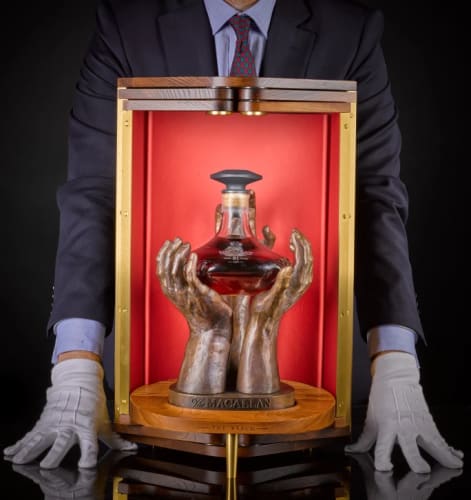 "Age, rarity and provenance combine to spectacular effect in this, one version of the oldest single malt whisky ever to be released by The Macallan. This is Sotheby's third auction partnership with The Macallan in three years, and it is always a special event when we collaborate to launch a unique and exclusive bottle. It is particularly special when that bottle happens to contain the oldest whisky in the world." ~ Jonny Fowle, Sotheby's head of whisky and spirits, North America and EMEA
Macallan has said the proceeds of this auction will go towards its apprenticeship fund which helps recruit new apprentices and provides training and development programmes.
Bidding is open from now until October 5th 2022.