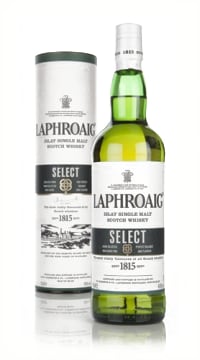 Laphroaig Select
For the Laphroaig Select, the Islay distillery has taken whisky from a number of different types of cask, including Oloroso Sherry butts, white American oak, Pedro Ximenez seasoned hoggies, Quarter ca... Read more
Compare prices from
£25
to
£40.99
Listings
Statistics
Reviews
Information
Statistics
The below chart tracks the cheapest price (excluding shipping) over time for Laphroaig Select. Each figure represents the average price per month for that online retailer
Store
04-01-2023
05-01-2023
06-01-2023
07-01-2023
08-01-2023
09-01-2023
Amazon
N/A
25.78
25.76
23.37
25.82
25.00
Asda
32.84
29.08
30.52
32.76
26.03
26.11
30.44
26.00
Drink Supermarket
N/A
31.99
32.78
32.99
32.99
32.99
Master of Malt
29.62
29.57
29.34
31.35
27.90
25.83
25.83
25.83
Morrisons
29.00
32.81
27.76
26.96
28.27
27.86
30.93
25.00
Ocado
N/A
N/A
37.00
25.71
25.00
25.83
OnBuy
N/A
N/A
N/A
N/A
N/A
40.99
Tesco
32.86
25.32
29.19
30.14
28.29
31.82
23.80
29.00
The Bottle Club
31.00
31.00
31.00
31.00
31.00
31.00
31.09
31.49
The Whisky Shop
34.00
33.85
33.00
33.00
33.00
33.00
33.00
33.50
Tyndrum Whisky
N/A
N/A
33.50
33.50
33.50
33.50
Waitrose
25.00
38.00
24.47
36.75
25.00
25.95
29.11
36.75
Whisky Exchange
30.62
34.75
33.60
33.45
33.45
33.45
33.45
33.45
---
Reviews
Let us know your thoughts on a product or view reviews from others. Please note that CasKompare does not verify whether the user has used or purchased the product.
---
Product Information
Laphroaig Select is available for the lowest price of £25. This is information is sourced from 16 online retailers, confirming this is the most affordable price available at this moment.
Product
Product Properties
| | |
| --- | --- |
| Volume | 700ml |
| Alcohol Content (ABV) | 40% |
| Country of Origin | Scotland |
| Created On CasKompare | 02-20-2022 |
Product Description
For the Laphroaig Select, the Islay distillery has taken whisky from a number of different types of cask, including Oloroso Sherry butts, white American oak, Pedro Ximenez seasoned hoggies, Quarter casks and first fill bourbon casks. Quite a "selection", wouldn't you say? A laid-back addition to the Laphroaig core range of single malts.~ Master of Malt
Order Now: Experience the smooth taste and rich aroma of Laphroaig Scotch Whisky by ordering your 700ml bottle today With an ABV of40, this budget friendly whisky is the perfect addition to any collection or for sharing with friends. Order now.
About The Brand: Laphroaig
Islay single malt Scotch whiskey is produced at the Laphroaig distillery. It is called after the region of land near the mouth of Loch Laphroaig on the island of Islay's southern shore. The toponym's meaning is uncertain, although an often proposed derivation contains the words 'lag,' which is Gaelic for 'hollow,' 'breid,' which is Norse for 'breadth,' and 'vik,' which is Norse for 'bay,' suggesting an initial Gaelic form that may be something like 'Lag Bhrdhaig' (the hollow of Broadbay). The placename 'Praig,' which is also supposed to mean 'wide bay,' on the east coast of Islay may be linked to the name. Suntory Holdings of Japan's American affiliate, Beam Suntory, owns and runs the distillery and the brand. Since the first drop of whisky came off the still in 1815, distillery management have handed on their heritage of manufacturing whiskey. The art of Laphroaig has been guarded by Ian Hunter, Bessie Williamson, John MacDougal, Denise Nicole, Iain Henderson, John Campbell, and our newest distillery manager, Barry MacAffer. Naturally, each person brought their own impact, but everyone recognized the distinctive qualities that make Laphroaig the whiskey it is. The Kilbride Stream, hand-cut peat, floor-malted barley, mash tuns, cold-smoking kilns, copper alchemy, and the finesse of oak aging. Each and every step is important in creating the Scotch whisky with the most complex flavors.
Related Video