Highland Park St. Magnus 12 Year Old Edition 2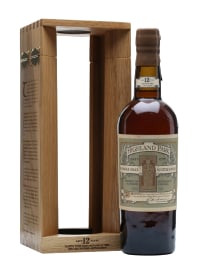 Whisky Information
Average Price: £662.48 / 700ml
Highland Park St. Magnus 12 Year Old Edition 2 is a limited edition single malt whisky from the Highland Park distillery on the Orkney Islands in Scotland. This whisky is named after St. Magnus, the patron saint of Orkney, and is the second edition of the St. Magnus series. The whisky is aged for 12 years in a combination of sherry-seasoned American oak and first-fill bourbon casks, resulting in a complex and well-balanced flavor profile. On the nose, the whisky has notes of vanilla, honey, citrus, and smoke, while the palate is characterized by flavors of spicy oak, dark fruit, heather honey, and peat smoke. This edition of St. Magnus is bottled at 55% ABV, which gives it a bold and intense flavor profile. The whisky is non-chill filtered and natural in color, which allows the full flavor and character of the whisky to shine through. Only a limited number of bottles were produced, making this a highly sought-after collector's item for whisky enthusiasts.
Available Listings In The UK
---
About Highland Park
Located in Kirkwall in the Orkney Islands, Highland Park Distillery is the second-northest single malt Scotch whiskey distillery in Scotland (Kimbland Distillery on Sanday is 22 miles farther north). Magnus Eunson, a butcher and church official by day and an illegal distiller and whiskey smuggler by night, built the Highland Park Distillery. He was busted on the premises illegally producing alcohol in 1798. Nearly 30 years later, in 1826, Highland Park was granted a formal whiskey distilling permit. The distillery's name refers not to the Scottish Highlands but rather to the fact that it was built on territory known as 'High Park,' which set it apart from a nearby lower region. Highland Park uses the same distillation procedure as other distilleries. In comparison to other peats, the peat used in Highland Park has a larger percentage of heather. The whiskey is matured in sherry barrels, either manufactured of American or European oak and bought from Spanish Oloroso sherry makers. F. Paul Pacult, America's preeminent authority on distilled spirits, has named Highland Park 'The Best Spirit in the World' three times. At the Ultimate Spirits Challenge, its 25-year-old whiskey became the only beverage to ever achieve a flawless 100-point rating. The Light and The Dark, two of its limited-edition distillery releases, received Double Gold medals from the San Francisco World Spirits Competition in 2018. Highland Park received the Chairman's Trophy for Best in Category at the Ultimate Spirits Challenge in 2019 for the fourth consecutive year. Due to rising interest from whiskey enthusiasts in the distillery's limited-edition whiskies, Highland Park finished second in whisky auction sales in 2018 after sister company The Macallan.
Related Video